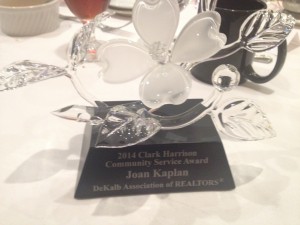 This is an article about me that was printed in the DeKalb Neighbor, Atlanta Jewish Times and a number of other area publications.
Speechless is not a word typically used to describe outgoing real estate agent Joan Kaplan – however, when the DeKalb Association of Realtors recently awarded her the prestigious Clark Harrison Community Service Award she remembers being both speechless and flabbergasted, since she was nominated without her knowledge by her business partner, Marshall Berch.
At the DeKalb Association of Realtors recent annual banquet, where Kaplan received her award, Marshall Berch & Associates of Palmer House Properties was also named the top realtor group in DeKalb County for the second year in a row.
Kaplan has been affiliated with Berch all eight years of her real estate career and developed a reputation for being a go-to realtor in her home community near Oak Grove Elementary School.
At the awards ceremony, the usually gregarious Kaplan stated simply "I just do what I love, which is to help people, pets and nature in simple and small ways as often as possible. It's not like I do any one big thing; I just don't even think about doing the small things or that they are extraordinary – they are just a part of my DNA."
Still, Berch had plenty of fodder for his nomination of Kaplan, given that she has a long history of initiating and participating in philanthropic activities related to her home/family, neighborhood, school, synagogue and community.
The award is named for Clark Harrison, who was shot by an enemy sniper in World War II and paralyzed from the waist down, but became a successful realtor, Chairman of the DeKalb County Board of Commissioners, founder of Fidelity National Bank, and along with James Shepherd, founder of Shepherd Spinal Center (now Shepherd Center).
"I'm beyond thrilled that my energetic colleague received the award," said Berch. "She takes giving back to a whole new level that includes always lending an ear, or a word of support to friends and colleagues like me."
Kaplan, a St. Louis native, started making her mark in Atlanta when she arrived 25 years ago to work for Ford Motor Company. She was a co-founder of a business networking group for young professionals called AM Atlanta, started a Jewish singles group and volunteered for Shearith Israel's Homeless Women's Shelter for 12 years.
In the early days of marriage to husband, Brian, an Environmental Health Scientist/Geographer at the CDC, she helped him plan a 3800-mile bike ride across the U.S. to raise money and awareness for mental illness issues, which impacted a family member.
She planned the logistics and fundraising and traveled with him along the way to share their messages about access and funding for the mentally ill.
The Kaplans have two daughters, a 13-year-old and an 9 -year-old who they waited five years to adopt from China and arrived with a serious heart condition, which is now in check thanks to successful surgery at Children's Healthcare of Atlanta. Their home in Leafmore Creek Park subdivision also includes three rescue animals and a chicken coop.
Thanks to Kaplan's efforts, the family's home has also become a gathering spot for many neighbors. For five years, Kaplan has hosted a back-to-school breakfast that more than 50 area moms attend each year. Within the last two years, the couple installed a Free Little Library, which they restock when borrowers forgot. Kaplan, an avid nature enthusiast, also initiated a Leafmore garden group.
Kaplan has also been quite involved at Oak Grove Elementary, volunteering at many school functions since her oldest daughter was little, ranging from orientation/registration, ice cream socials and donation of teacher and staff meals.
Her community involvement extends to an annual free paper shredding event that she heads up for Marshall Berch & Associates at Toco Hills, along with coat, bike and book drives, and more.
Roughly two years ago, Kaplan witnessed the aftermath of a shooting at the Kroger parking lot near her office, which killed an armored guard. Shaken and resolved to live life one precious day at a time, Kaplan sprung into action to create a fundraiser and memorial event for the widow and family of the guard.
She's hoping to pass on her community service ethic to her daughters, involving them in give-back activities on MLK Day this year and in passing out McDonald's gift cards to the homeless who live in the underpass at her exit off I-85.
"I am exceptionally honored by the Clark Harrison Community Service Award," said Kaplan. "It's really coded in me to give back and I do it without thought of such rewards. The sweetest and best rewards for me are connecting people in valuable ways to their neighbors, to food, to books, and to nature."
Kaplan plans to formalize her activities by establishing a family foundation in the near future.