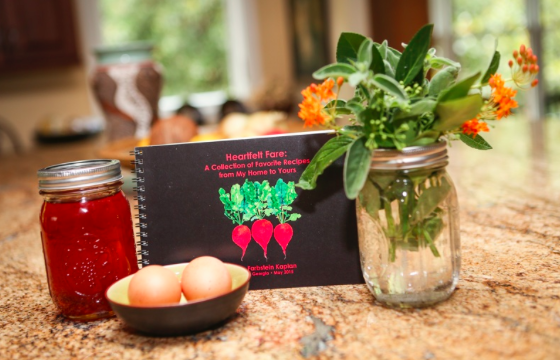 It's an honor to have helped hundreds of clients buy and sell homes as a real estate agent during the last 10 years. I believe that home is much more than a place to live; it's where we rest and restore, love and laugh, eat and entertain. The heart and focal point of our home is the kitchen – where I often create meals that are tossed together quickly. Through the years, I have collected simple recipes, as well as those shared by family and friend and have compiled them in a recipe book – Heartfelt Fare: A Collection of Favorite Recipes from My Home to Yours which is being distributed as a fundraiser for our philanthropic fund, The Kaplan Family Foundation which will help us give back to our community.
We have selected four recipient organizations, each related to housing and all based in or around the Oak Grove area of Atlanta where we live. Ruffus Rescue helps find homes for dogs, including our beloved Oreo whom we adopt from Ruffus 5 years ago. One Good Deed promotes the concept of neighbor helping neighbor. Contribute 2 America caters to the homeless who live under the bridge at I-85 and North Druid Hills. Atlanta Hospital Hospitality House offers a "home away from home" to outpatients and relatives of patients hospitalized in 30 Atlanta area hospitals and medical facilities.
To learn more about these recipient organizations or The Kaplan Family Foundation, please see our website www.thekaplanfamilyfoundation.org.
It's really exciting to see the book in print and I am deeply grateful to all who brought life to this book: my patient writing coach Wayne South Smith, PR pro/photographer and long-time friend Karin Koser, talented watercolor artist Bekka Fulton, and the team at AlphaGraphics. We are distributing the books as gifts with the hope that a donation will be made to the Foundation or a favorite charity. Books will be available in our area or by contacting me directly.